image 3
(onmouseover)
image 1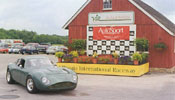 (onmouseover)
image 2
(onmouseover)
image 4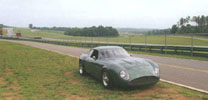 (onmouseover)
Aston Martin DB4 GT Zagato
Clone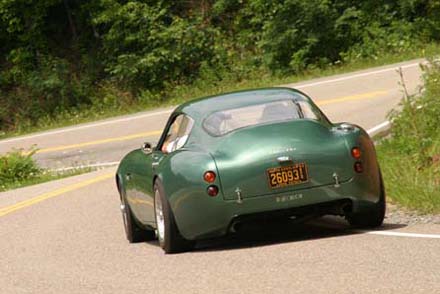 photo credit to killboy.com
photos of our prototype being testdriven on the Tail of the Dragon.The absolute
MUST DO
road for sports car enthusiasts. . For more information on the photographer who took the photos go to
killboy.com
For more information on
tail of the dragon
, click the link
Aston Martin produced this car in an extremely limited quantity. Only 19 original vehicles are known to exist today. This is simply too few to satisify the sports car enthusiast and historic racers urge to own and drive these stunning automobiles.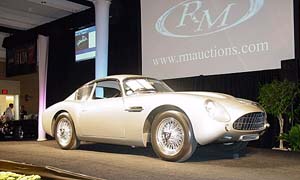 Original Zagato recently sold at auction
Original cars come to market very rarely and when they do, they sell for well over two million dollars. This price is simply out of reach for the average enthusiast. There are several other companies out there recreating these fine cars as aluminum bodied vehicles.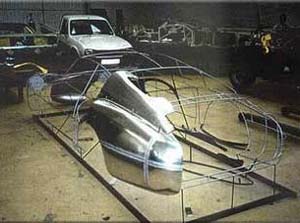 A Zagato being recreated from aluminum
These are also very expensive since the donor car with which the project is begun, sells for around $100,000.00, so the final product ends up at around $400,000.00. In 1987 even Aston Martin decided to build some continuation cars. These were known as Sanction II and Sanction III cars. Several individuals have also recreated cars. Refer to the photo below of this aluminum recreation.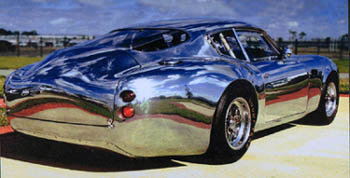 photo of an aluminum bodied Zagato clone
Our goal is to recreate this eye-catching automobile to be able to provide the enthusiast an opportunity to own and drive an accurately detailed example of one of the most exceptional automobiles ever produced. The purpose is to combine beautiful styling, outstanding performance and supreme reliability.
The Ravana makes it's public debut at Virginia International Raceway Gold Cup Races June 10-12, 2005 ----- hover over an image to get a larger view
Classic Sports Cars unveiled their prototype of a racing legend for the vintage racing fraternity at the 2005 VIR Gold Cup Challenge.
The response was absolutely overwhelming. We knew we had something pretty special and exiting, and our belief was definitely confirmed by the people who were racing, the people at the car show, and the fans.
As we were pulling away from the auction area and going down the hill toward the paddock, Mr. Harvey Siegel the owner of VIR spotted the car and promptly made a U turn and followed us to the paddock. We received one of the best compliments from him. He got out of his car to check out our beautiful beast and said "neat car" he thought it was the real Mc Coy. He said " I had to see it up close, I didnít expect a car of this caliber at our vintage event. Donít get me wrong, we get a lot of nice cars here, but I did not expect one of these. Itís cool."
On Saturday morning one of the SCCA corner workers was checking out the car as I came out of the motor home with a cup of coffee. He had his morning coffee in hand as he walked around the car, checking every detail from every imaginable angle. I asked Richard what he thought and he summed it up perfectly when he said "It looks like someone took all the best styling features from all the great classic sports cars, put it into a blender, stirred it up and this is what poured out."
The following are links where you can get more information on the fabulous originals and other companies recreations.