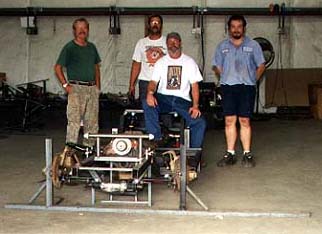 The crew (Standing from Left to Right) are Bill Deiderich-Fiberglass Fabrication Specialist. Tom Larson-race car fabricator, currently employed by Dale Earnhardt, Inc. Steve Morris-owner Morris race cars, mechanical engineering degree from GA Tech., designer of the chassis. Sitting--Piet van Rossum-sportscar enthusiast, vintage racer, and owner Silver Star Restorations, which is where these RAVANAs will be built.
---- The RAVANA chassis design authentically recreates the spirit of the great sports car builders of the late 1950's and early 1960's. Our chassis was developed using the same tools and techniques the great sports car builders out it California used back in the 1950's. ------- A level concrete floor, framing square, plumb bob and a tape measure. The starting point was a small block chevy engine. (Click on any photo for a larger image)
--- There is nothing fancy about our chassis.
The RAVANA will have NO ABS, NO traction control. But let's be realistic, stuff a 300 + HP small block chevy in a car that weighs around 1900 pounds and you have a recipe for serious rapid forward motion. So the RAVANA does have disc brakes up front to slow this beast down. A simple tubular a arm front suspension, coil over shocks at all four corners, -------------------- (click the photo for larger image) a bullet proof Ford 9-inch rear end. The rack and pinion steering reacts quickly. The wooden steering wheel feels like it is directly connected to the front wheels. .The bucket seats are molded into the bodyshell. Trimmed out in your choice of the finest leather. The dash face is machined aluminum and houses the speedometer, tachometer, fuel, oil pressure guages. (Sorry, no cup holders.) -----------------------------------
Classic Sports Cars will be hand building several RAVANA's per year. All will be custom built and taylored to each clients individual needs and wants. You pick the colors, the engine HP rating, the leather for the interior and we will painstakingly hand build your custom RAVANA sports car.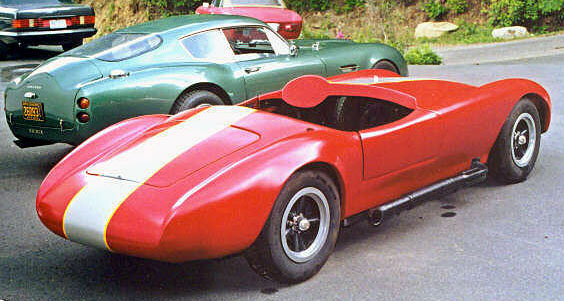 Call or email for pricing information.
The RAVANA is currently under development Keep checking back for more current information.